Hot Tubs Made Simple
When purchasing a new hot tub or swim spa for your home, there are several factors to consider. While budget, style, size, and upgraded features are obvious decisions, don't forget about taking care of your hot tub. Pool King Recreation has been selling spas since 1985 and we have a lot of expertise and knowledge to share with our customers so they will get many years of enjoyment from the model they buy. We are authorized by Jacuzzi®, Caldera Spas®, FreeFlow®, and Endless Fitness® to perform warranty service and our technicians are our employees, not sub-contractors. Doesn't it make sense to purchase your hot tub or swim spa from a dealer who can assist you every step of the way?
Hot Tub Water Care
Pool King Recreation sells all the products you need to keep your hot tub water clean and inviting. We stock filter cartridges for all of our models as well as products for cleaning the cartridges. Only chemicals specially formulated for spas should be used in your hot tub. Water treatment keeps the pH in balance so the sanitizers are effective. We also have pleasing scents you can add to the water to enhance your relaxation experience. Our retail sales staff is always happy to answer any questions you have about care and operation of your hot tub or swim spa.
Hot Tub Accessories & Parts
We sell replacement hard covers for your hot tub or swim spa that can be special ordered to be the exact fit for your model as well as cover lifters and steps. If you need to replace the head rests in your spa, we can order those as well. Contact our retail store sales staff and they will assist you.
Hot Tub & Swim Spa Service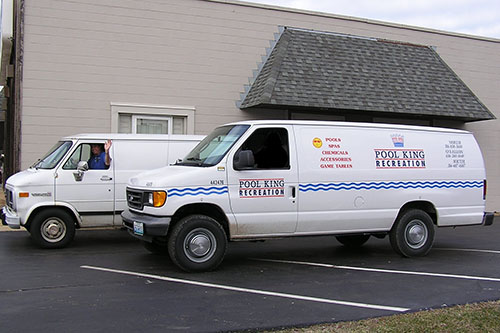 If your hot tub or swim spa needs service, call 314-838-9384 and leave a message for our technicians. Give your name, address, type of spa and describe the problem you are having. They will look up your account history and give you a call back as soon as possible to schedule a repair call. We are a factory authorized repair center for all of the brands that we sell. We make service calls all over the St. Louis Metro area.